In today's fast-paced digital landscape, businesses seek reliable partners to enhance their digital product engineering capabilities and drive successful digital transformation initiatives. Unosquare was founded in 2009 and has emerged as an industry trailblazer. With our unique model and unwavering stability, we stand out among our competitors, offering clients and prospects a winning combination of expertise, innovation, and long-term partnerships.
Building a Digital Excellence Ecosystem:
Unosquare has recognized the evolving needs of businesses and have continued to remain agile as we've grown. That is how why we have structured our offerings around eight specialized disciplines known as "Centers of Excellence." We meticulously designed these disciplines to meet the demands of modern digital product creation and digital transformation initiatives. By leveraging these areas of expertise, Unosquare helps our clients navigate the complexities of the digital landscape while delivering exceptional results.
A Broad Reach and Global Presence:
With over 1000 highly skilled employees working in distributed teams across five countries, Unosquare boasts an extensive reach and the ability to serve diverse clients. By strategically locating our teams in the Americas and Great Britain, our company ensures unparalleled support and understanding to clients worldwide. This global presence enables Unosquare to deliver innovative solutions while adapting to local market dynamics and cultural nuances.
The Power of Work Streams:
Unosquare's internal approach sets us apart from the competition. Rather than merely addressing immediate concerns, Unosquare's methodology focuses on solving the long-term needs of our clients. By considering the complete scope of a digital product and experience, Unosquare takes a holistic approach, ensuring that all interrelated elements, harmoniously integrated, create successful outcomes. This forward-thinking methodology demonstrates Unosquare's commitment to sustainable solutions that drive long-term business growth.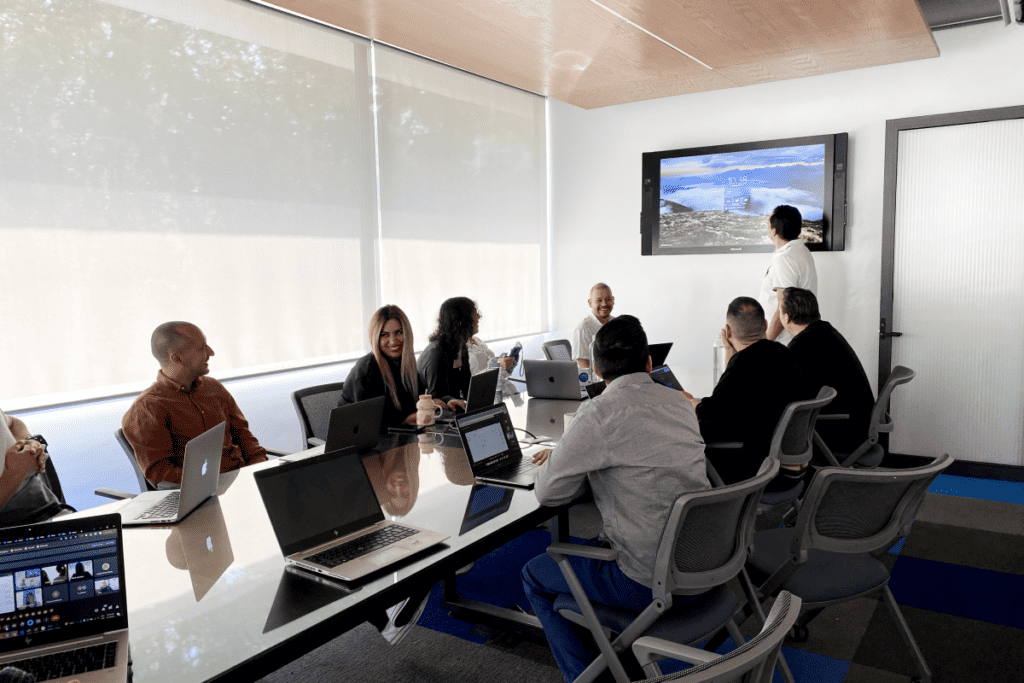 The 4D Process
Discover, Define, Develop, Deliver:
Unosquare's unique 4D Process, powered by its Client Success, People Success, and Talent Acquisition departments, solidifies our position as a leader in ensuring customer satisfaction and successful software development practices. Every team member collaborates to understand the client's objectives and design an agile project that aligns with their business goals. Unosquare's Delivery Managers, empowered with comprehensive project lifecycle management skills, ensure that the final product meets the client's functional requirements and exceeds their expectations. This diligent approach and a relentless focus on quality enable Unosquare to deliver exceptional results consistently.
Reliability and Client Satisfaction:
Unosquare's commitment to client success is evident through our impressive Net Promoter Score (NPS) of 71 and over 90% client retention rate. These metrics speak volumes about the company's ability to build enduring partnerships and provide exceptional client value. By consistently delivering on its promises and exceeding expectations, Unosquare has earned the trust and loyalty of its clients, establishing our firm as a reliable and highly sought-after partner.
How Unosquare Can Help
In a world where digital transformation is vital for businesses to thrive, Unosquare has emerged as a beacon of stability and success. With our robust model, global presence, workstream methodology, and customer-centric approach, Unosquare empowers our clients to achieve their digital goals confidently. Whether you require digital product engineering or seek to implement transformative initiatives, Unosquare stands ready to be your trusted partner on this transformative journey. Choose Unosquare for unparalleled expertise, innovation, and a steadfast commitment to your long-term success.
Check out our latest Guide on gaining a competitive edge with a nearshoring partner in a down economy.
Together, let's unlock the full potential of your digital endeavors with Unosquare.